JOHK
Aux antipodes de l'existence
12" vinyl / special edition : CD in silkprinted 7" sleeve + random vinyl
12" vinyl
More info soon
Plus d'infos bientôt
DIY limited edition
CD + silkprinted 7" sleeve + random vinyl
Name your price
CD + pochette 45 tours sérigraphiée et vinyle aléatoire
Prix libre
We are glad to get involved once again with our friends Johk with their new album.
The band keeps on writing great songs, their style becomes more personal at each record, with this one the post-rock influences are more visible, with as usual honest lyrcis in French.
10 songs that form two big pieces (one per vinyl side).
As before, we gave them a special treat and silkprinted by hand 80 copies of a special edition, available for their summer tour : recycled 7 inch vinyls + CD, blue print on the cover, and black print on the plastic sleeve, top!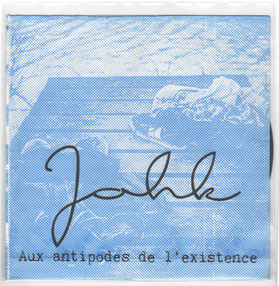 On est super contents d'être de nouveau aux côté des Johk pour leur nouvel album. Le groupe poursuit sa route et affine son style, avec des influences post-rock beaucoup plus présentes que par le passé, et toujours ces textes justes écrits dans la langue de Molière/Bégaudeau.
10 titres qui s'enchainent de manière à ne former plus que deux gros morceaux, un par face du vinyle.
Comme pour l'EP précédent, on a sorti les racles pour sérigraphier à la main les 80 exemplaires de la version DIY qui sera dispo lors de la tournée estivale du groupe : CD dans pochette 45 tours avec vinyle aléatoire, impression en bleu sur le carton et en noir sur la pochette transparente, top classe!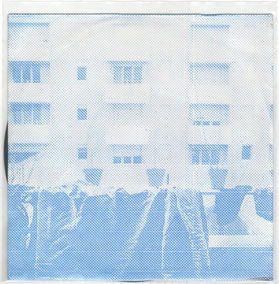 Videos
Silkprinting / Sérigraphie
Reviews